Brilliant Red Chard

There are many varieties of red chard, and several multicolored chard varieties that have red in them.

This website is for sale.
Contact me if you'd like to make an offer.

Some people claim that red Swiss chard varieties don't grow as well, bolt more easily or are in some way inferior to the white varieties, but I haven't noticed any major differences, other than the ribs on white chard being wider and stouter.
Notable red varieties of chard

Here are a list of the varieties that I've found so far, with some popular suppliers (click on the photos to learn more):
Rhubarb Chard
"Rhubarb" Chard -- an heirloom chard variety first developed in 1857 -- is named for its stalks, which are the same shade of red as rhubarb. Unlike rhubarb, the whole plant is edible, and it doesn't get nearly as large as a rhubarb plant does!

Ruby Red
Swiss chard "Ruby Red" grows to around 18-24" tall, has green leaves (occasionally shot through with red) and bright red stalks.

Here are some you can find on Amazon:

"Red Magic" chard

Red Magic is a hybrid chard that has cranberry red stalks and leaves that go from green to purplish-red.
These are available exclusively from Burpee.

"Burgundy" chard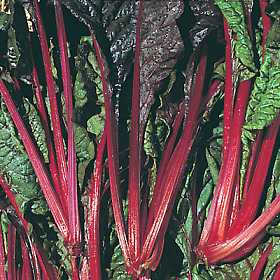 Burgundy chard has deep red stems (and often leaves) and apparently is very good for container gardens.
I found some for sale at Seedman.com
(note: I've never purchased here, but it looks as if they ship internationally and to APO addresses, so it might be worth taking a look at)
Others
"Charlotte"
I found the "Charlotte" variety (which was developed in Europe) mentioned several places as being the most resistant to bolting out of all the red varieties, as well as being more productive than most.
If you live somewhere particularly hot and dry (or with frequent droughts, which is what causes bolting in chard), try this one.

Galaxy
Galaxy is a UK variety which I've only been able to find listed occasionally at
Unwins
"Vulcan"
Vulcan is a deep red variety of chard originally from Switzerland. You can find it at many retailers, most notably Baker Creek Heirlooms.

Multicolored chard varieties

There are several multicolored chards which have red plants in the mix. Investigate these and see which fit your garden design plan:

Magenta Sunset - can be hot pink or red
Rainbow - Australian variety
Bright Lights - 1998 All-America Selections winner
Northern Lights

Would you like to learn and talk more about edible gardens with a group that loves edible landscapes as much as you do? Join the Tasteful Landscape community.

What would you like to read about next? Here are some popular pages:
Designing your garden (interview) - Front yard ideas

Or search this site:
Please note that the search results page from Google may have ads ABOVE the actual search results that are not from this site.
---
If this site has helped you and you wish to help with costs, click here.